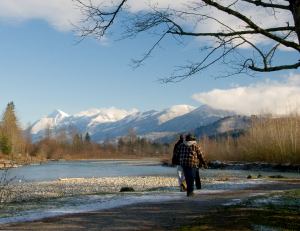 Welcome To the Yarrow Community Website!
Our little community nestled between Abbotsford and Chilliwack, with mountains in front and behind us, is full of delights. Our Community Centre is located adjacent to the Vedder River, a world renowned fishing and hiking destination. Photo was taken by Yarrow native, Victor Froese.
We have a strong community family who pull together to bring events like Yarrow Days, Santa Breakfast, Community Suppers and the annual plant sale to the citizens each year.
Our Community Centre features a Grand Hall (capacity 200 persons) with a full commercial kitchen and a Small Meeting Room (capacity 40 persons) with coffee facilities that can be rented as well.  The Southside Room is also fixtured for meetings and has a capacity of 80 persons.  It works well for showers, birthday parties and other family or corporate functions.
The Community Centre is home to our local branch of the Fraser Valley Regional Library (with the highest per capita readership in the FVRL) as well as a lounge operated by the Yarrow Senior Citizens Association.
Explore our site to see what the community of Yarrow has to offer or check out our Yarrow Community Centre Facebook page for recent photos of events at "the hall". We think you'll be surprised. If you want to become more involved, please let us know!
What you'll find in this site:
• Volunteer Information
• Hall Rental Information
• Yarrow Quarterly Newsletters
• Community Events