Yarrow's economy has always been based on its natural resources, and primarily agriculture. The town can be described as an almost "complete" community because its business sector is diverse and large enough to provide livelihoods for many of our citizens. We are blessed with several manufacturers who employ substantial numbers of locals.

The vibrant downtown core of retail outlets features the popular Perfekt Deli, Rivers – a relaxing restaurant with a full menu in addition to shushi, as well as two pizza parlours and other take-out options. Two convenience stores, gas stations, three government licensed liquor outlets, and service providers round out the roster. We even have our own post office and beloved Mennonite Central Committee thrift outlet.
This place has always seemed to spark creativity and we are proud to have among us a large contingent of artists and artisans.  Many operate from their studios which are located a short distance from the "main drag" and are featured in the 2016 Yarrow Brochure 
Yarrow has a strong backbone of faith and is served by four houses of worship – Alliance Church, Canadian Reformed Church, Mennonite Brethren Church and the United Mennonite Church. Click on each name for information and location.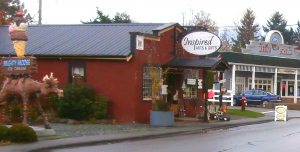 Not really a business but the Yarrow Arts Guild has its own Facebook page.  Here's a link: https://www.facebook.com/Yarrow-Arts-356465084457374/?fref=ts
So what do we need to identify ourselves as a truly complete community?  We'd love to have a local doctor again.  A dentist would be good too.  We still need to drive to the pharmacy.  An organic bakery is expected to open in August 2016.  Yarrow is a work in progress.  We thank our business sector for taking such good care of our needs and for providing employment for so many of us.  We're all in this together.